Private Investigator Beverly Hills
If you are considering hiring a Los Angeles Private Investigator, you are on the right website. EPIS has a well-established reputation as one of the best private investigation services in Los Angeles. Get a former federal agent on your side and call EPIS today!
Whether you need a professional to conduct an infidelity investigation on your spouse or partner, or scrutinize the finances of a company you're considering doing business with, it is essential to employ the services of a reliable private investigator in Los Angeles or the Beverly Hills area. Here at Empire Pacific Investigative Service (EPIS), we take pride in our commitment to superior customer service and consistent results. Three retired U.S. Federal Special Agents established EPIS in 1993, and we hold every new private investigator in Beverly Hills that we hire to the high standards set forth by our founders. Our team consists of professionals culled from the top ranks of federal, state, and local law enforcement. Most of our associates have at least three decades of investigative experience, and bring to EPIS a diverse array of skill sets.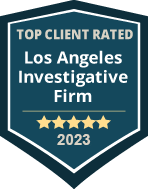 Verified by
Find Local Contractors
Indeed, the tremendous variety of backgrounds and training amongst our associates is why we are able to offer such a wide range of services. You can hire an EPIS private investigator in Beverly Hills for employee theft and screening, database research, missing persons, litigation support, and much more. We encourage you to explore our informative and user-friendly website to learn more, and to contact us directly with any questions.
EPIS Investigation – Private Investigator Services providing Infidelity Investigation, Domestic Surveillance Investigation, Background Check Screening Investigation, Missing Person Searches, Asset Research Investigation, Insurance Fraud Investigation and other information gathering.
Private Investigator Services
Empire Pacific Investigative Services Inc., established in 1993 by three retired U.S. Federal Special Agents, offers a diverse range of investigative services individually tailored to our clients' specific needs. Throughout its years of service, EPIS has enjoyed an enviable reputation based on dedication to client service. Each member of our staff is highly skilled, thereby ensuring a knowledgeable team proficient in every phase of the investigative field. These phases include infidelity investigation; one of the most common reasons private investigations is sought out. With EPIS infidelity investigation we can give you the results you need for real peace of mind.
Another area we specialize in is surveillance investigation. At EPIS, our investigators are highly experienced in every method of surveillance. Our investigators are equipped with most advanced tools necessary to capture evidence in nearly any imaginable surveillance scenario. Read more – Child support investigation is also one of our leading specialties, as most state child support enforcement agencies do not have the resources to track down parents who evade their support obligations. At EPIS we utilize the most advanced tactics to not only track down the deadbeat parent, but to track down and provide detailed information regarding the assets of the parent. This is where our asset research specialists come into play, by collecting information that can in turn be submitted to child support enforcement agencies.
Another area where EPIS is highly proficient is tracking down a missing person. Our advanced trace team at Empire Pacific Investigative Services Inc. will provide you with an updated current address for the missing person you are seeking to find. EPIS also specializes in background checks investigation, business identity search investigation, pre-trial preparation checks, due diligence inquiries, and employment screening investigation, which aid in all areas from gathering information on a potential employee to determining the legitimacy of a company by providing details regarding the company's history and business practices, etc. Yet another business related service we offer is the detection and exposure of insurance fraud. Insurance fraud affects all insurers which is why; at EPIS we have built our reputation upon dealing with claimants in an open, helpful manner, doing all that is possible to ensure that claims are dealt with thoroughly whilst at the same time protecting our client's position.
When Should You Hire a Los Angeles Private Investigator?
Hiring a private investigator (PI) in Los Angeles can be a valuable decision in certain situations. It's essential to consider your specific needs, the legal implications, and the potential benefits before deciding to hire a PI. Some common scenarios where hiring a private investigator might be appropriate include:
Infidelity or marital concerns: If you suspect your spouse or partner is cheating on you and need evidence to confirm your suspicions or for legal proceedings, a PI can help gather the necessary proof.
Child custody disputes: In cases where the safety or well-being of a child is at stake, a PI can gather evidence to support your case in court or help you monitor the other parent's actions.
Background checks: Employers, landlords, or individuals may hire a PI to conduct thorough background checks on potential employees, tenants, or even romantic partners, to ensure that they are making informed decisions.
Missing persons: If a loved one has gone missing, and the police have been unable to locate them, a PI may use their resources and expertise to help find the missing person.
Insurance fraud or workers' compensation investigations: If you suspect someone is defrauding your insurance company or exploiting workers' compensation benefits, a PI can help gather evidence to build a case against the fraudulent party.
Corporate investigations: Businesses may hire a PI to investigate potential corporate espionage, theft, or embezzlement, or to conduct due diligence for potential mergers or acquisitions.
Surveillance: In cases where you need to monitor someone's actions or gather evidence of their activities, a PI can provide discreet surveillance services.
Legal support: Attorneys may hire PIs to help gather evidence, locate witnesses, or uncover hidden assets in civil or criminal cases.
Remember that it's essential to hire a licensed, experienced, and reputable private investigator, and to understand the legal and ethical boundaries that they must follow. The professionals at EPIS can offer experienced service to anyone in need of a Los Angeles Private Investigator.
What Credentials are Important when Hiring a Los Angeles Private Investigator?
When hiring a private investigator in Los Angeles, it's essential to look for specific credentials and qualifications to ensure that you are working with a skilled, ethical, and legally compliant professional. Some of the critical credentials and factors to consider include:
Licensing: In California, private investigators must hold a valid license issued by the California Bureau of Security and Investigative Services (BSIS). Make sure to verify their license number and check for any disciplinary actions or complaints against them.
Insurance: A reputable private investigator should carry professional liability insurance (also known as errors and omissions insurance), which protects both the investigator and their clients in case of any claims resulting from the investigator's actions.
Experience: Look for a private investigator with substantial experience in the specific area of your case, such as infidelity, child custody, or corporate investigations. This ensures that they have the necessary expertise to handle your case effectively and efficiently.
Training and education: A competent private investigator should have formal education or training in relevant fields, such as criminal justice, law enforcement, or private investigation. Some investigators may also have specialized certifications, such as in computer forensics or fraud examination.
Reputation and references: Seek recommendations from friends, family, or legal professionals who have worked with private investigators in the past. Research online reviews and testimonials to gauge the investigator's reputation and the quality of their services.
Professional affiliations: Membership in professional associations, such as the California Association of Licensed Investigators (CALI) or the National Association of Legal Investigators (NALI), indicates that the investigator is committed to maintaining high professional standards and staying current with industry trends.
Communication and transparency: Choose an investigator who communicates clearly, sets realistic expectations, and maintains transparency throughout the investigation process. They should provide regular updates and be willing to answer any questions you have.
Confidentiality: Ensure that the private investigator understands the importance of maintaining strict confidentiality and adheres to privacy laws, both to protect your interests and to comply with legal requirements.
By considering these credentials and qualifications, we are certain that you will place EPIS at the top of your list so call or contact us now and hire a reliable, effective, and trustworthy private investigator in Los Angeles to handle your case.