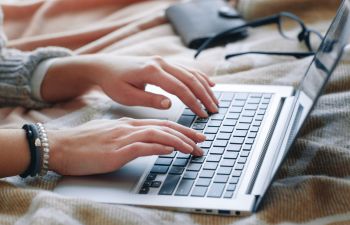 When the Perfect Potential Partner is Too Good to be True
If you have had nothing but bad experiences on the dating scene, it is okay to be suspicious of potential partners. Everybody has a past and first impressions are not always as revealing as we would like. An experienced liar can fool even the most cautious individual. To avoid getting burned again, a background check is a good idea.
The average person does not have the resources to fully vet prospective love interests. You can check any available information on social media accounts. Do a search on the internet to see if any problematic issues come up. Take things slowly and look out for red flags. All these methods may turn up useful information, but the chances are slim.
Locked Down Social Media
Sometimes people are just incredibly cautious about who can access their online information. Social media platforms give users the option of managing security settings. If the woman or man you have been dating posts very little visible information on social media, it may indicate a need for secrecy or it could just represent a person who doesn't like sharing personal details online.
If you are not comfortable with how little you know about a new partner, don't ignore your instinct. There is nothing wrong with wanting to know a person's background before making a romantic commitment. Abusive partners thrive on manipulation and other psychological tricks. You can protect yourself by having a background check carried out by a professional private investigation agency.
Reluctance to Discuss the Past
Again, some people just don't like discussing their past and that is a perfectly valid position and right. However, for someone who has been hurt by past partners, knowing the background of new romantic partner is a must. This red flag is easily resolved with surveillance and a background check carried out by an experienced PI.
Your PI can follow any individual discreetly and report back on any suspicious or worrisome behavior. This will allow you to make informed choices about who you let into your life. These checks are especially beneficial for single parents with younger or vulnerable children. Sexual abusers can reoffend by gaining access to a home with small children.
To learn more about the telltale signs of dangerous partners, reach out to the offices of EPIS today. We have the tools, experience and methodologies to ensure that you get all the information you need.

Posted on behalf of Empire Pacific Investigative Services
1117 Sherbourne Dr.
West Hollywood, CA 90069
Phone: (310) 657-3747
Email: epis0007@gmail.com
Monday - Friday
9:00 AM - 7:00 PM