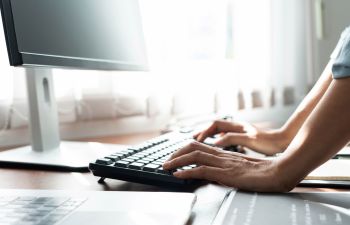 Technical Surveillance Counter Measures (TSCM) Can Save Your Business
Most people associate security with the physical protection of people and property, but modern society often requires more. Digital security, like bug sweeps, is an equally essential practice for most businesses. The tools and techniques digital security professionals use are called Technical Surveillance Counter Measures (TSCM).
What is TSCM?
TSCM is a security service that defends against covert surveillance involving electronic equipment and identifies technical security weaknesses. However, an expert TSCM provider like EPIS will do more than just scan for electronic signatures and transmissions from hidden devices. Our TSCM procedure uncovers potential vulnerabilities in addition to locating threatening surveillance devices or software.
A comprehensive bug sweep is necessary to detect recording devices masked within other electronic devices. After sweeping your working environment and external threats, we design a custom security package catered to your business' circumstances and environment.
Why TSCM Is Important
Electronic surveillance is a common threat. Businesses must worry about electronic surveillance because competitors or criminals can steal vital information. Anyone can buy surveillance devices. Furthermore, modern technologies are so small and subtle that they are nearly impossible to find by yourself. These devices can be hidden in the most inconspicuous places and require little battery power or connectivity.
In addition, criminals can bug your car with a GPS tracker to follow your movements, learning about your schedule or discovering the location of hidden resources. They can also employ hidden computer monitoring devices to record keystrokes and steal your passwords or other private information.
With ample training and counter surveillance experience, EPIS investigators can defend you from both scenarios. In addition, we employ the latest tools and procedures to detect and eliminate bugs and malicious malware.
The Advantage of Having a Proactive TSCM Strategy
If you need to secure sensitive information, like trade secrets, you must be proactive in implementing countermeasures. If you decide to do a bug sweep only when you think a device is present, it may be too late. The risk of people seeking information for illegitimate use is constant; thus, your counter surveillance efforts should be, too.
The economic loss and reputational damage resulting from a data breach can significantly outweigh the expense of developing a proactive TSCM plan.
In-place counter surveillance policies can deter burglars, competitors and errant staff.
A proactive TSCM strategy demonstrates best practices to board members, stakeholders, supply chain and clients. It is comforting to anyone involved in the business and attractive to could-be clients and partners. In addition, a proactive TSCM strategy will ensure that your interactions and information remain confidential, allowing you to focus on business.
Are You Ready to Protect Your Business with TSCM?
The right security specialist will help you defend your firm thoroughly. At EPIS, we use technical countermeasures, cybersecurity, physical security and sound policy to ensure you can face modern threats. In addition, EPIS will find and neutralize bugs and design a complete security system to protect your person, family, home, workplace and other essential sites.
If you feel you are under illegal monitoring, have fallen victim to data theft or want to know more about how TSCM can protect your business, contact EPIS now.
Posted on behalf of Empire Pacific Investigative Services
1117 Sherbourne Dr.
West Hollywood, CA 90069
Phone: (310) 657-3747
Email: epis0007@gmail.com
Monday - Friday
9:00 AM - 7:00 PM