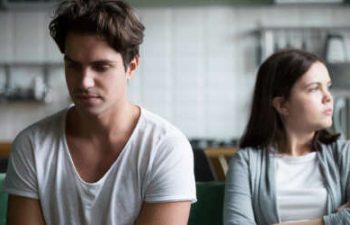 A Cheating Spouse
When you begin to notice changes in your spouse's behavior, it is understandable to become suspicious. The common saying, "don't show your cards," is a good way to think about how you should approach the situation. If your spouse is doing something that they shouldn't, such as cheating, giving away the fact that you may know will only lead to more guarded behavior.
Common Reasons for Behavioral Changes
In a relationship, the first inclination you may have is that your spouse is being unfaithful. However, this is not always the case when a spouse begins to display unusual behavior. There are a number of other possible reasons that could have unpleasant implications. For instance, a spouse may have developed a gambling addiction or lost a job.
Whatever the reason, changes in behavior typically follow a pattern. Working longer hours, an increase in business trips, discrepancies in joint bank accounts and leaving a room to take phone calls are just some of the behaviors that may represent cause for concern. People who are cheating or keeping a secret from a spouse will go to great lengths not to get caught; but those same efforts are usually what arouse suspicion.
Challenging a Spouse
Challenging a spouse about suspicious behavior is not always the best approach. Even if you find messages that suggest an affair or a gambling habit, a quick-thinking spouse may be able to explain it away. You may end up doubting yourself without solid evidence of wrongdoing. Unless you can prove wrongdoing on the part of your spouse, challenging him or her won't provide you with the answers that you need.
The other issue with challenging a spouse is that you are alerting the potentially guilty party of your suspicions. All you will have achieved is making your spouse take even greater care to cover their tracks. It can be difficult to keep your suspicions to yourself, but gathering evidence to support an accusation is the best policy. If you accuse your spouse of something and it turns out you are wrong, it could seriously damage your marriage.
EPIS Private Investigation
At EPIS, we have completed countless investigations into spouses acting suspiciously. We can gather the evidence you need to prove wrongdoing without a shadow of a doubt. Our highly experienced private investigators come from law enforcement and military backgrounds, making them perfectly suited for covert surveillance investigations.
Call EPIS today if you would like to discuss a discreet investigation into your spouse.
Posted on behalf of Empire Pacific Investigative Services
1117 Sherbourne Dr.
West Hollywood, CA 90069
Phone: (310) 657-3747
Email: epis0007@gmail.com
Monday - Friday
9:00 AM - 7:00 PM