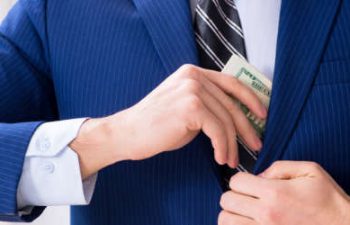 Employee theft is costly to businesses. As a business owner, you still have control of what goes on in your business every day, and you can manage your business to minimize employee theft and embezzlement. A security system is the number one defense mechanism against burglary, robbery and even shoplifting, as well as employee theft. If you need more help, remember the experts at EPIS Investigative Services.
The Most Common Types of Fraud
Vendor fraud is the number one form of fraud. This involves an employee manipulating accounts payable, using billing schemes that could include bribery or extortion. In addition, there is funds theft, check theft, theft of merchandise, theft of information and payroll theft.
Do not ever assume that the bookkeeper or manager who has been with your company forever is honest. Since this person has unrestricted access to company records, cash and information, he or she can do untold damage to your company. As soon as you protect one area with better security, the thief will work to find another available outlet.
Top Things You Can Do to Protect Your Assets
Restrict access to keys, computer data, inventory, supplies and merchandise. Create passwords and change them frequently. Although cash is the easiest to steal, losses to inventory and merchandise for sale can quickly add up.
Business identity theft is a growing concern among employers. This happens when someone poses as owners, managers or employees of a business to illegally gain access to cash, credit and loans, leaving the victimized business with the debts. The thieves then open up lines of credit or get business loans based on the business' identity.
Your employees can know what to expect in their jobs by creating written procedures that create hindrances to theft and then following them. You should set an atmosphere of structure that will help you track all business transactions. You can put payroll procedures in place so that you have control of the last action taken by insisting on using business checks that require two signatures.
Always keep track of inventory. All businesses have an inventory of supplies, including office supplies, and businesses selling products have an inventory of products and parts or materials.
Do a semiannual review of your theft prevention measures. Use calculations to make sure your inventory turnover is at a consistent rate.
Contact Empire Pacific Investigative Services today at (310) 657-3747 for help or more resources.
Posted on behalf of Empire Pacific Investigative Services
1117 Sherbourne Dr.
West Hollywood, CA 90069
Phone: (310) 657-3747
Email: epis0007@gmail.com
Monday - Friday
9:00 AM - 7:00 PM