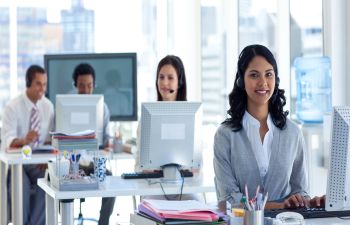 Many businesses deal with sensitive customer or client data. When these businesses are hiring employees, knowing they can be trusted with data that is potentially valuable on the black market is important. The dark web is one of the main platforms for selling financial and other information. However, there are several other channels that bad actors can use to make a profit.
Criminal elements can act alone or as part of a group. Hacking is the go-to method for gaining access to sensitive information. There are also unscrupulous employees who are willing to copy or download data. Corporate espionage is a nefarious practice that involves infiltrating a business to steal secrets, commit blackmail, sabotage computer systems and much more. These practices are illegal and can seriously damage a company's reputation and practices.
Employee Screening Services
If your business deals with any kind of sensitive data, you are a potential target for these criminals. Hiring is the first point where it is possible to screen potential candidates. This is your opportunity to check the backgrounds of those who may have less than honorable intentions. EPIS provides employee screening services. We employ ex-military and police personnel as private detectives who have extensive investigative experience.
At EPIS, we are proud of our reputation in the industry as a leader in the private investigation industry. Your PI can use evidence from social media that is public facing. We always provide picture, video and audio evidence when necessary. We can also help you design better business screening processes for incoming employees.
Relevant Industries for Employee Screening
Practically every industry will benefit from employee screening in some respect. However, there are certain industries that are especially in need of these services. Customer service, finance, legal and medical businesses should do all they can to protect personal data.
Let us handle your employee screening needs. EPIS offers a consultation that will allow you to outline your business processes so we can better tailor the service to you. Do not allow criminals to compromise your business. Our team can help ensure that every candidate is legitimate and of good character. Your customers, clients or patients will feel safer knowing that their data is protected.
Call EPIS today if you are unsure of the benefits that come with employee screening. There is no better time than now to secure business critical information and procedures.
Posted on behalf of Empire Pacific Investigative Services
1117 Sherbourne Dr.
West Hollywood, CA 90069
Phone: (310) 657-3747
Email: epis0007@gmail.com
Monday - Friday
9:00 AM - 7:00 PM