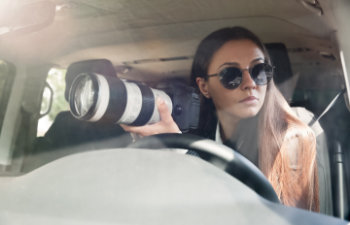 Suspecting a cheating spouse can be a heartbreaking experience. It can be difficult to know how to proceed or what to do. While it may be tempting to try and handle the situation yourself, hiring a private investigator can be a wise decision. Empire Pacific Investigative Services (EPIS) handles all sorts of cheating spouse investigations, including military spouses or those who travel abroad.
Many spouses believe hiring a private investigator is a drastic step that could cause even more problems than those you already suspect. In fact, EPIS investigators are discreet and use the latest techniques and technologies to keep your suspicions and activities private. Here's what you can expect from EPIS cheating spouse investigations.
1. Unbiased Investigation
When you suspect your partner of cheating, it's easy to let your emotions cloud your judgment. Hiring a private investigator ensures that the investigation is conducted by a neutral third party. We don't know you or your spouse. Our skilled and professional investigator will remain objective and focused on the facts, providing you with an unbiased report of their findings.
2. Access to Resources
EPIS private investigators have access to resources that the average person doesn't. They have advanced technology and tools that help them gather information and evidence. We also have connections with local law enforcement and other professionals that can aid in the investigation.
3. Expertise and Experience
EPIS private investigators have extensive experience and most have backgrounds in the military and law enforcement. We have a long and successful history of investigating infidelity cases. Our investigators know how to gather evidence without violating any laws or privacy rights. They also have the expertise to conduct surveillance and gather evidence that can hold up in court.
4. Protection of Your Privacy
If you try to investigate your partner on your own, you risk exposing yourself. In some cases, your partner may become aware that they are being investigated, causing further problems in your relationship. When you hire an EPIS private investigator, you can rest assured that your privacy will be protected.
5. Closure and Peace of Mind
Suspecting a cheating spouse can be emotionally draining. Hiring an EPIS private investigator can provide you with the closure you need to move forward. If your suspicions are confirmed, you can make an informed decision about your future. If they are unfounded, you can put your mind at ease and move on from the suspicion.
Los Angeles Cheating Spouse Investigation
If you suspect your partner of cheating, hiring a private investigator may be the best course of action. EPIS can provide you with an unbiased investigation, access to resources, expertise and experience, protection of your privacy and closure and peace of mind. It's important to remember that infidelity investigations should be handled with care and professionalism, and hiring a licensed and experienced private investigator is crucial.
Contact EPIS in Los Angeles, CA, if you have suspicions about a cheating spouse and want to learn more.
Posted on behalf of Empire Pacific Investigative Services
1117 Sherbourne Dr.
West Hollywood, CA 90069
Phone: (310) 657-3747
Email: epis0007@gmail.com
Monday - Friday
9:00 AM - 7:00 PM